| | |
| --- | --- |
| | Join The MZ Riders |
[ Home ] [ MZ Links ] [ MZ Main Index ] [ Search Site ] [ Join The MZ Riders ]
Membership of the club brings a copy of the MZ Rider Magazine (acclaimed as one of the most lively), usually every two months, and details of local meetings and events, and the opportunity to attend rallies and camping weekends which are held throughout the year in various locations. There are also occasional touring rallies held over one or two weeks in Britain and Europe.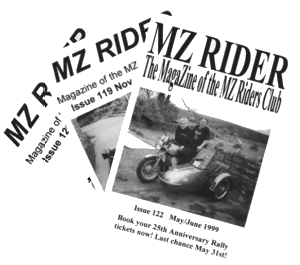 There is free access to technical advice for all two and four stroke MZ & MuZ machines and the unique classified section of the magazine caters for all your sales and wants.
We are in the process of recruiting MZ dealers in the UK to ensure good spares backup for all MZ and MuZ machines in the years to come, and MZ dealers take an active interest in the club and its members.
Club membership also gives you automatic affiliation, subject to annual renewal at the AGM, to the British Motorcyclists Federation, and the Motorcycle Action Group. Britain's two 'Riders-Rights' organisations, both which not only offer a range of benefits and discounts, but also campaign on motorcycling's behalf in the political arena. The Club magazine tells you where your nearest section meetings are.
There are three types of membership, Dealer, Individual and Household: the latter is for two adults at the same address and any children under 16. All run for a year from the date you join.
The Membership Secretary Steve Maddox will be glad to hear from you, email him if you wish to join.
Top of Page